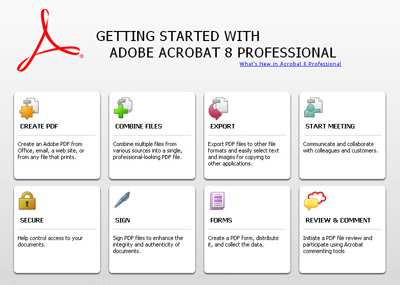 Adobe Acrobat 8.0 Professional (MAC/WIN)
Adobe Acrobat 8.0 Professional further extends this essential electronic document technology to new heights, providing unsurpassed document collaboration and review. This version is a critical component of professional digital workflows, a key element in distributing and reviewing digital content of all kinds, and in carrying that content, in PDF packaging, through the workflow to output or final use.
Any printable expression, from any application, can be output as a PDF document and be combined with other documents, and rich media content, to embrace an entire project such as a book, report, interactive presentation, or other form of communication. In most Microsoft Office applications, as well as several other popular software titles, the PDF creation process can be accomplished with a single click of the mouse.
The new, free Adobe Reader version 8 software now enables users to participate in the review process, adding their own comments and viewing those of others. Real-time collaboration can be initiated using the new Adobe Acrobat Connect interface based on the Breeze technology acquired from Macromedia. Users can be joined in a private meeting room to review PDF documents as well as any content that can be displayed on a computer. This is quite an effective means of collaboration.
Data collection has been simplified with improved forms management. Any printed form can be scanned and used as a template for a PDF form, with auto-recognition of form fields, a considerable time-saver and productivity booster. Auto field recognition also works with Microsoft Word and PDF documents, and, to simplify the data gathering process, any PDF form can be filled in by anyone using the free Adobe Reader. The returned forms can be aggregated and the form contents saved in a spreadsheet or database application.
Users will notice a completely new interface in Acrobat 8 Professional. When the program opens the user is presented with large buttons labeled: Create PDF, Combine Files, Export, Start Meeting, Secure, Sign, Forms, and Review & Comment. This entry portal provides immediate access to the most important Acrobat activities.
Among the most significant new features in Adobe Acrobat 8 Professional are:
• The export of PDF documents in Microsoft Word format, retaining all layout and appearance features for ease of editing and document portability.
• The output of document content in PDF/A format for long-term archival storage.
• Support for PDF/X with JDF for commercial print output.
• Files from a variety of applications can be combined in a single step to produce a single PDF Package. The Package keeps the various PDFs separate, yet allows them to be managed as a whole. Alternately the files can be saved as a single PDF with control over which pages from each of the component documents are included. The user can also add headers, footers, and watermarks to each page to provide a measure of uniformity.
• PDF review team members can use sticky notes, stamps, highlighter, pencil and other annotation tools to indicate changes and corrections. Every team member can see all of the comments that have been added, and can sort them by date, reviewer, etc.
• Hidden metadata, such as the document author, origination date, etc. can be detected and removed. Redaction tools can also be used to hide sensitive data such as financial charts and account numbers.
Acrobat 8 Professional retails for $449.
Contact: Adobe Systems Inc., 345 Park Ave., San Jose, CA 95110-2704, 408 536-6000, http://www.adobe.com, fax: 408 537-6000.
Adobe Photoshop Elements 5.0 and Adobe Premiere Elements 3.0 bundle (WIN )
Adobe Photoshop Elements 5.0 (see our previous reviews at http://www.printerport.com/kdp/issues/old/v6n4.html#Adobe%20Photoshop%20Elements%201.0%20(MAC/WIN), and http://www.printerport.com/kdp/issues/v8n2.html#Adobe%20Photoshop%20Elements%202.0%20(MAC/WIN)) and Adobe Premiere Elements 3.0 (see our previous review of Premiere 6.5 at http://www.printerport.com/kdp/issues/old/v7n5.html#Premiere%206.5%20(MAC/WIN)) bundle combines two feature-packed prosumer applications that enable users to use their photos and videos in several innovative and entertaining ways. Photoshop Elements 5.0, rated as the top selling consumer photo-editing application by The NPD Group, now offers several new features, including: easy conversion to black-and-white; control over color curve adjustments with color, brightness, and contrast settings; customized themed layouts for postcards, DVD covers, and more; sharable animated galleries; still-photo flipbook creation; and much more.
Premiere Elements 3.0 simplifies the process of creating and sharing digital video. Like Photoshop Elements, Premiere Elements has been rated as the number one consumer video-editing application by The NPD Group. Users benefit from easy-to-use workflows that simplify and automate the process of moving from the raw video in the camera to a ready-to-play DVD. At any point the user can exercise as much editing control as they wish.
The two applications in one box work synergistically, enabling the user to create professional slide shows composed of still images from Photoshop Elements that have been enhanced in Premiere Elements with video transitions, motion text, music and sound effects, and more.
The photos and videos produced using these applications can be published on the Web in animated galleries, burned to DVD, or used on portable video devices such as the Apple video iPod or Sony PSP. $149.99
Contact: Adobe Systems Inc., 345 Park Ave., San Jose, CA 95110-2704, 408 536-6000, http://www.adobe.com, fax: 408 537-6000.
Copyright and Distribution Information
The Kleper Report on Digital Publishing is (c)opyright 2007, Graphic Dimensions, Lauderdale by the Sea, FL, all rights reserved. You may distribute portions of this document, up to 200 words in length, unmodified, provided that you also include this copyright notice and subscription information.

The Kleper Report on Digital Publishing is published in Adobe Acrobat PDF format http://www.adobe.com. Each issue costs $4.95, with a 6 issue subscription costing $24.95. The free Acrobat reader is required for viewing.

Past issues (more than 120 days old) of The Kleper Report on Digital Publishing are available on the Web at: http://www.printerport.com/kdp/. Comments and inquiries should be directed to: The Kleper Report on Digital Publishing, E-mail: kdp@printerport.com.